Sponsors & Partners
They helping us make this event possible.
Platinum Sponsors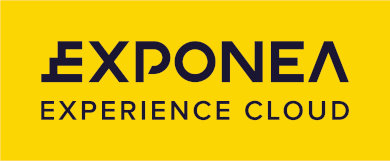 Exponea
Exponea is an intelligent union of customer data management and analytics which cracked the Single Customer View. We enable marketers to understand their customers and immediately turn such insights into actionable campaigns, all within a single integrated solution.
With cutting edge technology, Exponea empowers marketers to deliver personalization, in the moment experiences to their customers at scale through deeply embedded AI-powered capabilities and leverage intent to purchase both on your online store or outside of it.
We enable the fast transfer of know-how, resulting in a change of mindset and is a catalyst for a rapid, profitable growth of emerging e-commerce leaders around the globe.
Kiwi.com
Kiwi.com is an online travel agency with groundbreaking Virtual Interlining technology and a focus on exceptional customer service. Our unique combination algorithm allows our customers to combine flights from non-cooperating airlines onto a single itinerary, often resulting in significant savings.
Python Software Foundation
The Python Software Foundation is a 501(c)(3) nonprofit dedicated to advancing and promoting Python. The PSF supports and encourages Python events world-wide to advance its mission of growing the international community of Python programmers, and hosts the North American PyCon conference as its flagship annual event.
Gold Sponsors
Kistler
The Kistler Group is a Swiss high-tech company and the global market leader in dynamic measurement technology. We develop and supply sensors, electronics and software backed up by a full range of services. In Bratislava we develop software for the next generation of IoT devices. With our software we help customer to manufacture higher quality products, to develop cleaner cars and to reduce congestions on the highways. Behind our success stand our passion for technology, our focus on innovation and a work environment that promotes teamwork. We develop vehicles that people can trust; we create measurement systems that save lives. Kistler helps to shape a better future.
Titans freelancers
TITANS freelancers offers many attractive jobs and projects for IT freelancers. We cooperate with thousands of IT freelancers in Slovakia and abroad. We have signed partnership agreements with prestigious companies, institutions and recruitment agencies operating in Austria, Switzerland, Germany, Croatia, the Czech Republic and Slovakia, allowing us to offer IT freelancers attractive projects. See the list of jobs at www.titans.sk.
Red Hat
Red Hat is the worlds leading provider of open source software solutions, using a community-powered approach to reliable and high-performing cloud, Linux, middleware, storage, and virtualization technologies. As a connective hub in a global network of enterprises, partners, and open source communities, Red Hat helps create innovative technologies that liberate resources for growth and prepare customers for the future of IT.

Raiffeisen Group AI Lab
Permanent Establishment of Raiffeisen Bank International AG in Slovakia
Our team develops solution based on state of the art artificial intelligence models and algorithms for natural language processing for the Raiffeisen banks in the CEE region. Our focus areas are conversational AI and voice processing. Raiffeisen Group AI Lab represents a unique concentration of knowhow and expertise in the field of AI delivering innovative language-based solutions.
Silver Sponsors

SEGRON Automation
SEGRON stands for Beyond End2End® Test Automation in Telecoms & IT, international consulting and tailor-made software solutions.
Founded by industry experts with over 20 years experience in IT and telecommunications, our multinational team consists of experienced Telco and IT engineers, software developers, testing/automation specialists and project managers.
Our customers are international telecom operators, where our solutions enable faster and quality assured new service introduction and innovation.
Bronze Sponsors
martinus.sk
Martinus.sk is the largest online bookstore and the second largest bookseller in Slovakia. It was awarded in independent researches as "the best" or "the most popular" online store in Slovakia. The most important for us is to keep the most valuable asset: our customers' confidence. Thousands of stories. One bookstore. We still keep going...
Partners